As Indians bask in the glorious aftermath of the spectacular win the Indian cricket team pulled off against Australia in January 2021, the pundits are buzzing with life-lessons one can draw from this historic series.
I won't join that bandwagon, except to point to two beautiful books for children that do the honours; if one were looking for children's books about cricket in India. And if I may put it differently, one that helps the reader discover about cricket through life (a biography); while the other book seeks to discover life through cricket! A tad cheesy you think? Well…read on!
A book about Life through Cricket: Owlet by Ranjit Lal
It was by accident that I discovered the lovely book Owlet Not Out by Ranjit Lal, and I am so glad I did!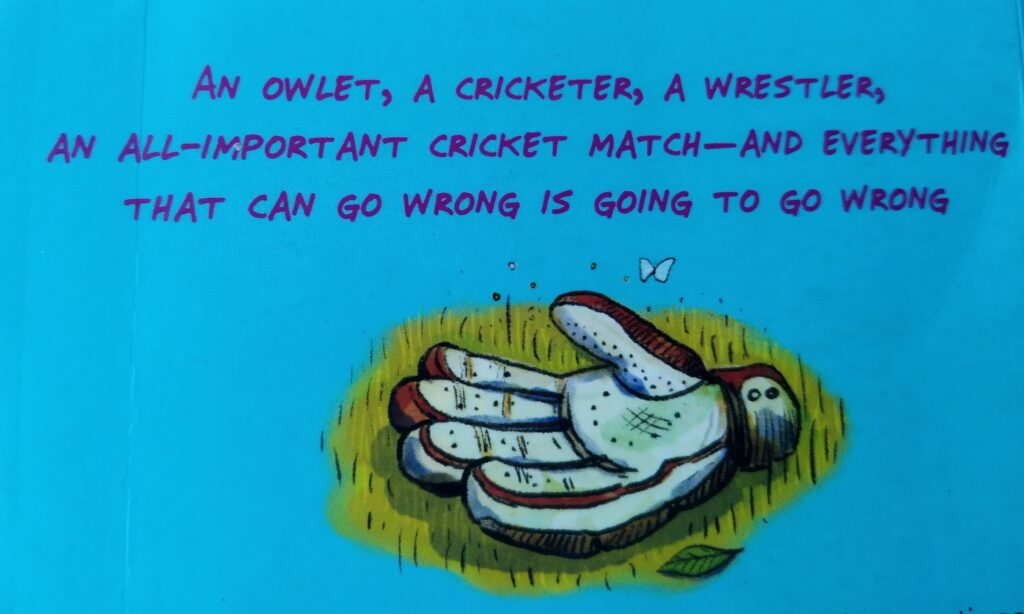 In the book, the author spins an endearing tale about cricket and wildlife, sportsmanship and friendship – but above all, about Empathy and Doing the Right Thing.
Owlet by Ranjit Lal: A Cricket Story Book for Kids
Owtlet is a kids' cricket storybook that highlights the art of cricket. The best part about it is that it is more than just a cricket storybook for it goes on to teach children about empathy, an indispensable value.
Sixteen-year-old Tubby, a rotund teenager with big-cricket dreams, has just moved to Delhi with his family comprising his parents, his twin sister Smokey and little sister Yolo. They live in a house by a cemetery that is home to parakeets and babblers, squirrels and owlets; a place that falls on Tubby's way to the new school he joins; a school named Jai-Hind International that places as much emphasis on sports and music as it does on academics.
To display his art of cricket and his masterstroke, Tubby looks forward to impressing everyone at his new school including the professional cricketer-turned-coach, something he manages to do on his very first day on the cricket field – cementing his place in the school cricket team instantly. The team is to take on their rivals from Gurgaon in an upcoming series and great hopes are pinned on Tubby as the star-batsman.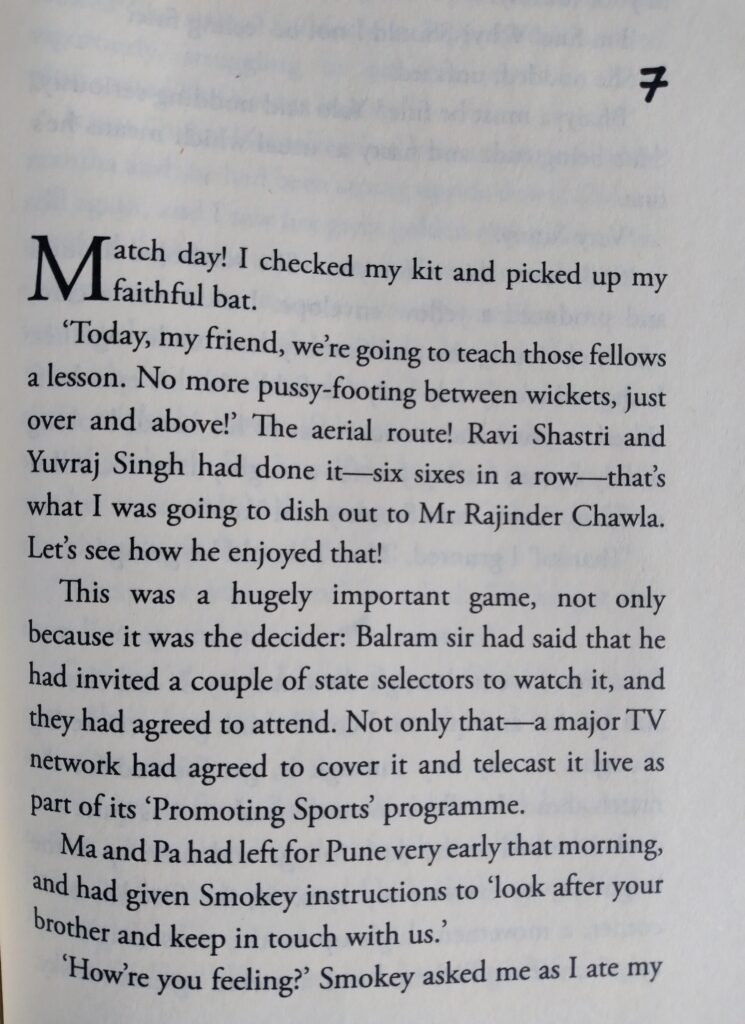 Through the story line, this cricket book teaches kids the art of cricket. When Tubby takes the rival team to the cleaners in the very first match of the tournament with his impressive batting, he becomes instantly famous. But his team gets a drubbing in the second game – and the final result is down to the third and last game of the cricket series.
Meanwhile, at school, Tubby befriends Patki, a champion wrestler who introduces him to the birds in the cemetery, with whom she shares an affectionate relationship. On their way home each day, Tubby and Patki stop dutifully at the cemetery petting and feeding various birds; most strikingly, a little owlet, with them they grow to have a special bond.
As the cricket tournament progresses, Tubby the star batsmen, faces an uphill challenge. He must win the trophy for his new school by playing a great innings. But on the morning of the match, as he hurries to report to the ground on time, he finds Owlet in danger. Tubby is confused. On the one side, is the cricket field -everything about cricket that promises recognition, victory and glory – all the things he aspired for. On the other, his beloved owlet was in trouble- struggling to survive. The decision is not easy – what will Tubby do?
Owtlet is more than just about cricket
This children's book is more than just about cricket. Through Tubby's experiences, it explores several facets of the art of cricket such as batting, fitness, practice, discipline and so on. It also explores the curiously uneasy and hesitant relationship between a boy and a girl in their early teens. It sensitively engages with the theme of empathy, by bringing the protagonists down to the crossroad of a very difficult choice.
In an age when children are pushed to perform and excel at all costs; to chase glory and fame, a story about Empathy and caring for what matters, within the context of something they can relate to like sports and ambition, is heart-warming. Owlet Not Out by Ranjit Lal is a kids' cricket book that does just that, with a dollop of humour and lots of love. It was a very enjoyable read for my children aged 9, (and me) and I'd recommend it for cricket buffs and non-cricket fans alike. Suitable for ages 8-14.
………………
A book about Cricket through Life: Sachin Tendulkar's Biography for Children
Chase Your Dreams by Sachin Tendulkar is a children's version of the great cricketer's autobiography Playing it My Way.
Published by Hachette, this book is an enjoyable read for young readers, especially those interested in cricket. Though my kids live and breathe football, they enjoyed Sachin's cricket autobiography.
This crick storybook for kids contains a mix of various formats like narrative text, comic strips and little snippets and trivia in telling Sachin's story in the first person which make it one amongst the best cricket books.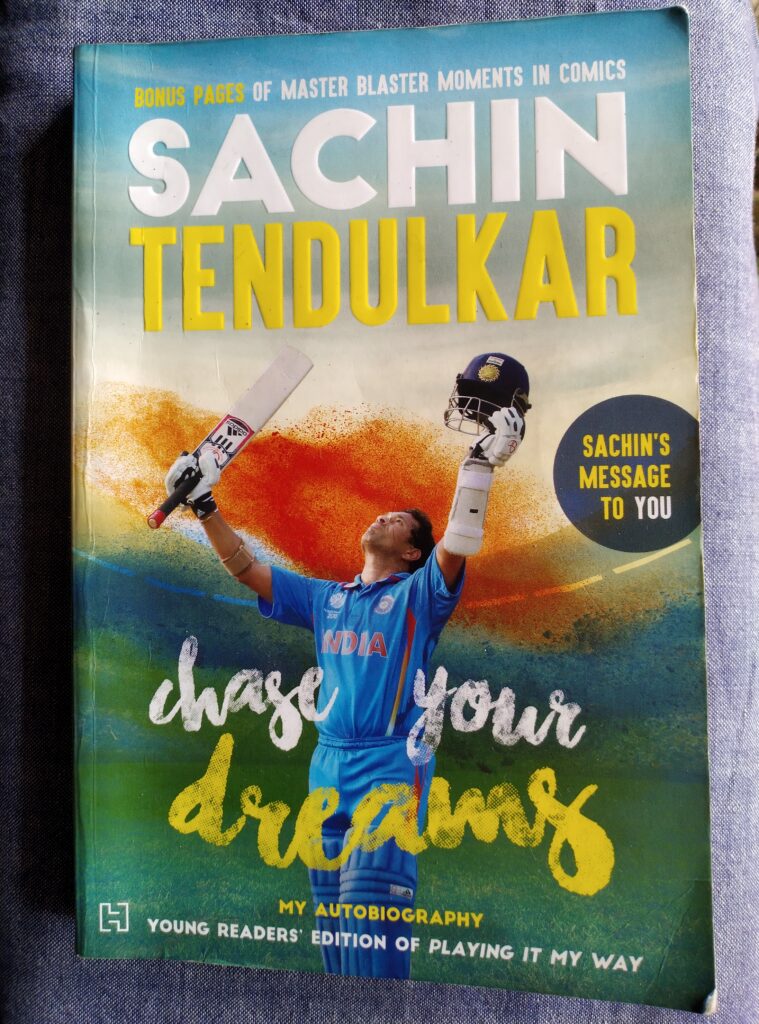 This cricketer autobiography converted for children gives you information on cricket and touches upon how to become a cricketer in India. It takes you on a journey through Sachin's life – starting with his childhood to his last match and beyond. The writing is lucid, candid and heartfelt and conveys everything about cricket. Sachin shares personal moments, professional milestones and narrates his take on the various challenges he's faced while becoming a cricketer in India. One can learn much about the art of cricket from these little windows into his life – for they offer a peek into what it must take apart from raw talent, to get to the top in any field.
Some passages in the book are particularly moving such as this one, that narrates Sachin's final cricket match and goodbye from the world of cricket.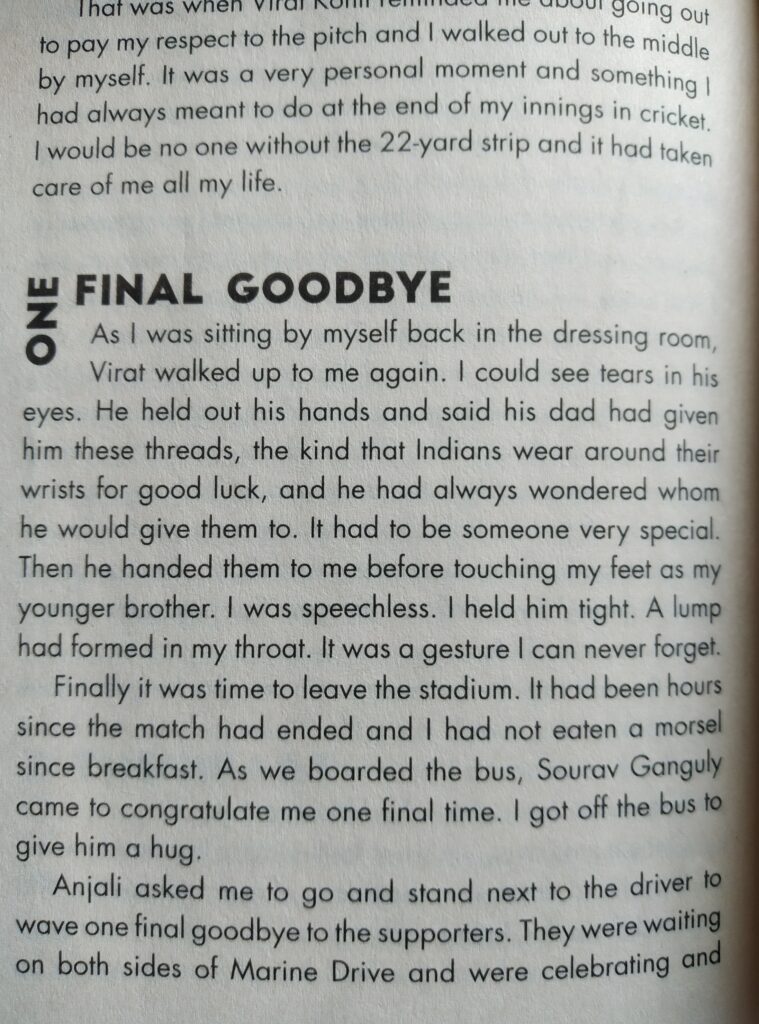 Tips from Sachin and Trivia
This kids' cricket book is peppered with little tips from the great master, pieces of advice that are inspiring whether the reader is into sports or not. Here's a sample.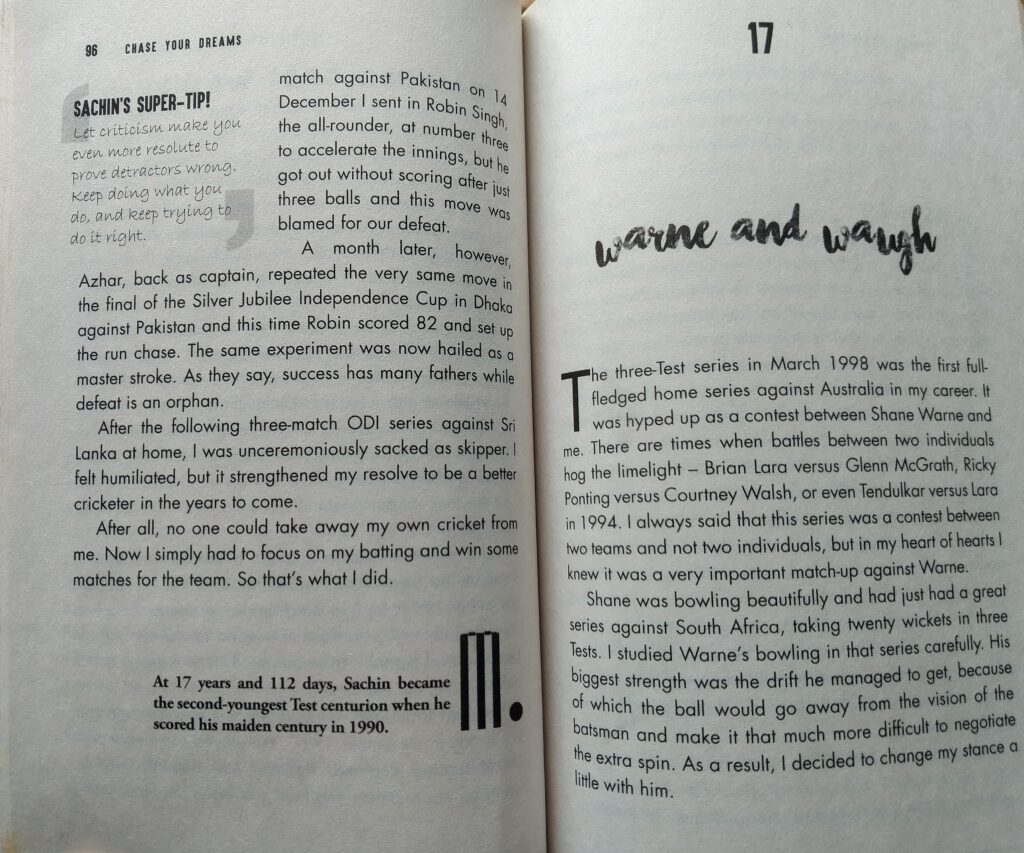 When Sachin came out to bat, the ground would reverberate with the sound of his name. Never again has that kind of mania been witnessed amongst cricket fans, with the hopes of millions fixed on one man. When he played, he lifted the spirit and mood of the nation. And whether it is the generation that grew up watching him, or the next that may not have seen him play, Sachin was and will remain an icon in the world of cricket, a sporting legend Indian children will celebrate and cherish. What makes this one most enjoyable is the fact that it is in Sachin's voice.
Recommended for children aged 8 and above.
So while the rush over cricket is still on high, why not tuck into these two lovely books with your kids? Reading, Life-skills, Cricket – this surely is a thrilling combo.